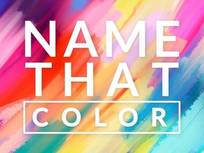 Return of Name that Color!
Additional colors! More obscure than before!
We perceive differences in the wavelength and power of light as color, but the language of color has meaning and history far beyond that. Although there are some with synesthesia who can hear, smell, or even touch color, the rest of us have surely had similar smaller experiences: have you ever felt the warm orange glow of the sun or thought that a piece of candy tasted blue? Even those who cannot see can have feelings for color. This quiz is decidedly more narrow, focused only on the names of colors in the visual spectrum.
*You will not be able to enter your name on the leaderboard
*You will not be able to enter your name on the leaderboard
Next:

How Strong Is Your Vocabulary?
Next:

Words of Snow and Ice Quiz
Next:

Name that Thing: Toys and Games Edition
Next:

Naughty or Nice Quiz
Next:

Words of the Year Quiz - 2020 Edition
Crosswords, Puzzles, and More
More Games
Many of our games used Adobe Flash, but Adobe discontinued support. We'll be working on some pretty big changes over the next couple months. We're really excited about what we have in store and we hope you stick with us through this tough transition.