Essential Meaning of joke
1
: something said or done to cause laughter
She meant it as a joke, but many people took her seriously.
Is this your idea of a joke? [=do you think that what you are saying/doing is funny?]
See More Examples
They played a harmless joke on him.
They are always

making jokes

about his car.
He thought he could embarrass us, but now

the joke is on him

. [=he is the one who looks foolish]
He just can't

take a joke

. [=he does not like it when other people make jokes about him]
2
: a brief story with a surprising and funny ending
I heard a funny joke yesterday.
the punch line of a joke
See More Examples
She's always cracking/telling jokes.
I didn't get/understand the joke.
an

inside joke

[=a joke that is understood only by people with special knowledge about something]
3
disapproving
: someone or something that is not worth taking seriously
That exam was a joke.
Their product became a joke in the industry.
See More Examples
He's in danger of becoming a national joke.
It's

no joke

to be lost in the woods. = Being lost in the woods is no joke. [=being lost in the woods is a serious situation]
Full Definition of joke
(Entry 1 of 2)
1
a
: something said or done to provoke laughter
especially
: a brief oral narrative with a climactic humorous twist
b
(1)
: the humorous or ridiculous element in something
(2)
: an instance of jesting :

kidding
can't take a

joke
2
: something not to be taken seriously : a trifling matter
consider his skiing a

joke
— Harold Callender
—
often used in negative constructions
it is no

joke

to be lost in the desert
Definition of joke (Entry 2 of 2)
: to make the object of a joke :

kid
Seen & Heard
People are talking about
Difficult Spelling Words Quiz
Which is the correct spelling?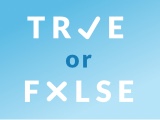 Test your knowledge - and maybe learn something along the way.
TAKE THE QUIZ