Words Matter
When Example Sentences Were Used to Inspire
Gorgeous quotes from the 1864 Unabridged
---
The great 1864 revision of Webster's Unabridged Dictionary – the first major revision of Noah Webster's dictionary after his death – came to define what it means to be an unabridged dictionary for generations to come.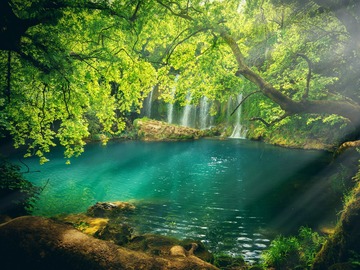 More than 50,000 new quotations were collected for the revision. They could not all be included in the book, but the 1864 edition did include more quotations than any English-language dictionary ever had before. In addition to the quantity, the quality of the quotations is also noteworthy. The selectors had a fine eye for quotations that not only illustrated words well but were also delightful to consider.
Here, for instance, is one of the quotations for alone, this one taken from Samuel Taylor Coleridge's Rime of the Ancient Mariner:
Alone, alone, all, all alone,
Alone on a wide, wide sea.
One notable feature of the 1864 revision was more inclusion of American writers. For example, here is a passage illustrating benediction from Henry Wadsworth Longfellow's Evangeline. You may not learn a lot about benediction from the passage, but it is lovely to read, and to listen to.
Homeward serenely she walked, with God's benediction upon her.
One of the most frequently quoted authors in the dictionary was Washington Irving, who was very popular at that time. Today we remember him best for "Rip Van Winkle" and "The Legend of Sleepy Hollow," but Irving considered his masterpiece to be his five-volume Life of George Washington. Here is a line from that work, illustrating blatant and its original meaning of "noisy especially in vulgar or offensive manner":
Glory, that blatant word, which haunts some military minds like the bray of the trumpet, formed no part of his aspirations.
Most of the quotations fulfill the usual requirement for quotations in dictionaries: that they serve to supplement the definition or provide an instructive example, but not always. One suspects that there was no real purpose for the quotation from Thomas Babington Macaulay at the entry for river other than the pure joy of considering the image:
Transparent and sparkling rivers, from which it is delightful to drink as they flow.
---