Words We're Watching
The Rules of 'Small Ball'
This term is batting a thousand. It's a high draft pick.
---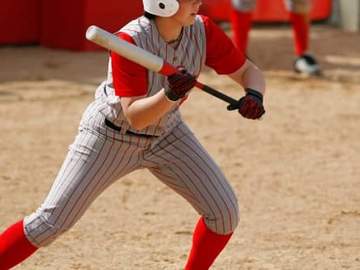 Update: This word was added to the dictionary in May 2021
Long ball in the sport of baseball refers to the one-time slugging hit that sends a baserunner or runners around the bases without worry of being put out: the home run. (Long ball also describes a deep or far throw or pass in other sports, such as football.) Small ball refers to an offensive strategy to score that includes any combination by players at-bat bunting, hitting a long or high fly ball, or setting up a hit-and-run play with a grounder to advance a runner or runners into scoring position; there is also the drawing of walks (bases on balls) and aggressive base running and sliding in the game of small ball. Basically, small ball in baseball is based on scoring runs with few extra base hits, and it is a play-by-play team effort. Sometimes the strategy works, but sometimes it doesn't.
One popular subject as Major League Baseball is starting up is the possible return to small ball. In a 60-game season, the rationale goes, … getting runners from first base into scoring position has added importance, as does getting the fly ball that brings runners home from third with less than two out. And with extra-inning games for the first game going to start with runners in scoring position at second base in each inning, moving runners takes on added significance.
— John Hickey, Sports Illustrated, 4 July 2020
Figurative Usage of 'Small Ball'
Outside the ballpark, small ball has similar but metaphorical meaning. It is batted around especially in business and politics as a word for taking small steps to achieve a goal, not hitting the long ball but still producing, scoring, getting results.
As we head into 2021, the Business Council plans to shift from recovery relief and focus on resilience, innovation and creativity. We are not seeking big home runs, but instead looking to play small ball, get that bunt or a single, and make sure that we can score runs in maybe untraditional ways.
— Josh Dorrell, The Wyoming News, 31 Dec, 2020

"Small ball" is almost always a better approach than big expensive changes. Chuck says once a city refocuses on what citizens need, it will discover an infinite number of small changes that can be made on a shoestring budget.
— Quint Studer, The Pensacola (Florida) News Journal, 17 Oct. 2020

Even if we can come up with some, you know, top line number, I think getting the policy right is what's going to be the open question for the leader. I do think they are going to get something done. It's a question of scale. And we can go from either extension of unemployment and eviction moratoriums and the small ball stuff all the way to a broad package that I think is where the gang of bipartisan senators want to be.
— Liam Donovan, quoted on MSNBC, 3 Dec. 2020
Other Sports
Additionally, small ball is used in sports other than baseball—in particular, basketball. In that game, small ball means that a team favors speed and agility to get baskets as opposed to height and physicality.
DARRYL MORSELL ON THE SMALL-BALL LINEUPS: "Stuff is in our favor because we would have bigger guys guarding some of our more perimeter-oriented guys…. So spacing will be there offensively, but defensively it's just focusing on making sure we get a stop, finishing a stop with a rebound because we're smaller. So making sure everybody comes back to rebound and stuff like that and just having that toughness. When you're smaller, you gotta get lower sometimes or be a little bit quicker."
— 247sports.com, 31 Dec. 2020
In Poker
Small ball is also used in tournament card game play. Small-ball poker, for example, involves making small bets to stay in the game, and then going all in with a sure hand.
From the state of the play, [Daniel] Negreanu is staying away from huge pots and big decisions against Polk. He seems to be trying to just chip away at the mountain he is facing…. He admitted to this "small ball" approach after the close of the session on Monday. "With a long-term goal, there are checkpoints," Negreanu explained in his post-game show on the GGPoker YouTube channel. "I always believe in setting big goals with several smaller ones within it…. If I can win one buy-in per session ($40,000), we win." Negreanu's math isn't off. If he were to win a buy-in per session until they reach 25,000 hands, that would be another 10,500 hands of action (and, at their current rate of roughly 500 hands per session, another 21 days of action). At $40K per session, the eventual outcome would see Negreanu win $840,000 over the next 21 sessions.
— Earl Burton, The Poker News Daily, 10 Jan. 2021
A player at the card table might also play long ball, which involves making large bets to build the pot as well as some intimidation in that large bets force opponents to hesitate in their decision-making.
On the very first hand back, Hebert raised to 700,000 on the button with A-Q. Jenkins three-bet to 2,300,000 with Q-Q. Hebert four-bet all-in and Jenkins called off his last 10.8 million or so. He was ahead preflop with his pocket queens, but an A-K-7-4-8 runout secured the pot and the title for [Joseph] Hebert. "I thought it was going to be a battle heads-up," said Hebert. "[Jenkins] plays a lot of long-ball, making big bets. I thought I was going to have to pick my spots, but I certainly didn't expect it to end like that."
— Erik Fast, Card Player, 28 Dec. 2020
Word by word we accomplished our goal: a well-rounded explanation of the usage of small ball. We consider it a "long ball"—that is, a dinger.
Words We're Watching talks about words we are increasingly seeing in use but that have not yet met our criteria for entry.
---