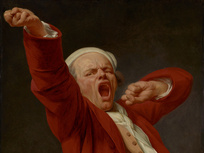 Slippery Words Quiz—Changing with the Times
Do you know these earlier meanings of words?
Many of the words we use have a meaning that is different from what it once was. Take the quiz below to see if you can guess the earliest meaning of some of the more slippery English words.
START THE QUIZ
Next:

How Strong Is Your Vocabulary?
Next:

Namesakes Word Quiz
Next:

Forms of Government Quiz
Next:

Semantic Drift Quiz
Next:

Challenging Vocabulary Quiz Returns!